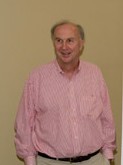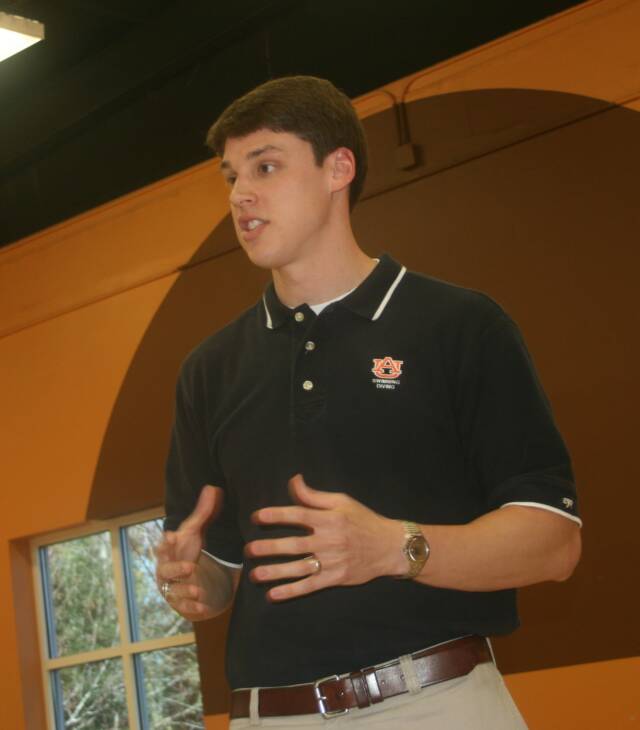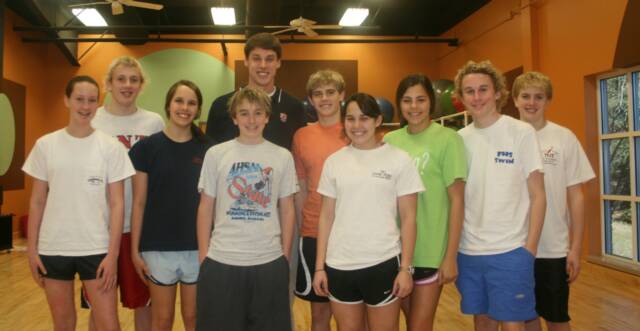 2009 Level 5 Holiday Camps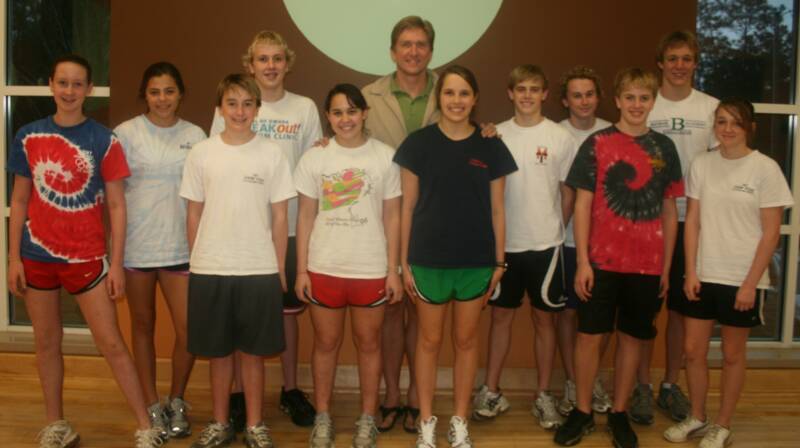 TNT Level 5 holiday camps were held on Tuesdays and Thursdays during the winter school break.  These specialty practice sessions were held as follows: 

8;00 AM - 10:00 AM Swim; 10:20 AM - 11:20 AM land training; 11:30 AM - 12:20 PM Lunch and Learn; 12:30 PM - 2:00 PM Swim.  Special thanks to TNT volunteers who provided lunch for the swimmers:  Mary Beth Mantiply, Laurie Simpson, Elena Szydel and Sahra El - Hamaki.

The Lunch and Learn segments included three guest speakers who talked to our swimmers about their experiences as elite level athletes and the lessons they learned during the process of achieving their goals.

GEOFF GABERINO
won a gold medal as a member of the Men's 4 x 200 Freestyle Relay at the 1984 Olympics in Los Angeles, CA.  He lives in Gulf Shores with his wife Nancy, and his sons Wilson and Spencer.  He and Nancy owne and operate
Gulf Shores Vacation Rentals, Inc.
Geoff also spoke about how after so many years of his mother supporting his swimming, he eventually had a chance to support her, as she at age 50 began training as a marathon runner. This experience eventually led to his participating in the Olympic Torch Relay at the 2002 Winter Olympics in Salt Lake City, Utah.  Geoff also brought the torch with him.

Geoff spoke to our swimmers about his personal journey as a swimmer, beginning as a national age group record holder at age 14, and also as a member of the University of Florida Men's Swimming Team. 

ALLEN COX, SR. is a successful local real estate developer, business man and noted philanthropist who has worked with hundreds of kids during his many years coaching football, baseball and basketball. 

As an athlete, Allen was a four sport varsity letter winner at the University of Alabama, where he played on the Crimson Tide's 1972 NCAA Championship winning football team under legendary coach, Bear Bryant.  Allen talked to the kids about the Bear's philosophy of how talent can be overcome by desire, commitment, enthusiasm and hard work.  

Allen told the swimmers a personal story about finishing second place in the 400 hurdles at the Alabama State High School Track and Field Championships during his junior year at UMS.  Allen talked about how the experience motivated him to spend the next year doing extra practices after his high school practices had finished and then winning the event to become the State Champion in his senior year.

Allen's message to the swimmers was that how they perform is a personal choice and is the result of the choices they make every day. He talked about choosing to be positive or negative, to work hard, to be a good team mate, and that how those choices affect their team and ultimately their personal success.

Allen finished his talk by giving each swimmer a folder containing letters and quotes given to him by his coaches that inspired and motivated him, and then encouraged the swimmers to use the folder to collect their own words of inspiration in pursuit of their goals.  Allen's presentation concluded with a short video of Bear Bryant's annual talk to his incoming Freshman class.  You can watch the video 
HERE.
B.J. Jones is a fourth year medical student at the University of South Alabama and currently lives in Mobile with his wife, Taylor. His goal upon graduation is to become a cardiologist. 

B.J. graduated from Auburn University, where he was a member of Auburn's 2003, 2004 and 2005 NCAA Championship winning teams and was also selected as a team captain his senior year. Among other honors, he was the 2004 Southeastern Conference Champion in the 500 freestyle; a two time Olympic Trials Qualifier (2000 and 2004) and finalist in the 400 and semi - finalist in the 200 freestyles. B.J. is still a current AU team record holder in the 1000y freestyle, 800m freestyle and 4 x 200 Freestyle Relay.,

B.J. then talked about his decision to pursue his goal of making the Olympic team in 2004.  This included taking a semester off from classes in order to commit 100% to training, as well as making the best decisions to get adequate rest and  proper nutrition in order to maximize his training results.  Although B.J. fell short of his Olympic goal, he still to this day feels pride and satisfaction  knowing that he did all he could do in pursuit of that dream.

B.J. finished his talk by telling the swimmers about bouncing back from the disappoinment of falling short of his ultimate goal and how his commitment and hard work would pay off in a way he never imagined.  He described how he had struggled to swim well during his senior year, but still qualified for the NCAA Championships  On the final day of the meet however, and with the team championship on the line, his coach David Marsh asked him to swim the anchor leg of the 4 x 100 freestyle relay, a race that would ultimately decide whether Auburn would win the men's team championship.  Although the 100 yard sprint was not his best event, Marsh knew how much the opportunity would mean to B.J.,who anchored the relay with a liftetime best, scoring the points needed to give AU their 3rd consectuvie NCAA crown.

He then described his progression in swimming as a member of a small age group team in Georgia and eventually working his way to Junior Nationals where at age 16 he qualified for the Olympic Trials. He talked about his freshman year at Auburn, wanting to be a contributing member of the team and  working his way to the top of  his training group.  He recalled inspirational moments, including winning his first practice set, winning his first dual meet event and winning his first event at the Southeastern Conference Championships.

B.J.'s presentation began by emphasizing that, "attitude, not aptitude, will determine your altitude," and that, "excellence is not an accident, it is a habit."

Geoff talked about how he dealt with the pressure of competing at the Olympic Trials and also the thrill of competing at the Olympic Games.  Geoff passed his gold medal around for the swimmers to hold and said that he hoped some of the gold would rub off on each swimmer who held it.  He emphasized the importance of each swimmer understanding that the choice to pursue success in swimming belongs to the swimmer alone and not that of their coaches, teammates, friends or family members.